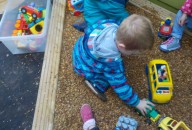 You may need a child day care centre in Hanly when you have young children, and need to leave them while you are at work. When searching for the right place, you need to consider how long the centre has been in business, and what kind of reputation they have. It is a good idea to talk with friends and relatives who have used child care services to see what they think about a service. Look for a centre that has an outdoor play area as well as indoor areas for different age groups. You should stop by, unannounced, to see how clean the place is and how things are run. See if the children are well supervised and whether they are happy. You can talk to the owners and staff and get answers to any questions you might have about the facility.
In Hanly, child day care centre services are available at Rainbow Day Nursery. They offer quality child care for children ages zero to five years old. The company has been in the business for over 26 years ago. They have built their high-quality reputation by providing a safe and fun place for children, while their parents work. They are Ofsted and National Day Nurseries Association registered. They are open 51 weeks out of the year, Monday through Friday from 7:30 am to 6:00 pm. They provide a safe, clean, happy place for your children to socialise with other children and develop skills that are age appropriate. They work with Early Years Foundation Stage to make sure your child is ready to start school with good learning skills.
When you need a reliable child day care centre in Hanly, Rainbow Day Nursery is the place to call. Your child will be well cared for and happy at their facility. They have separate areas for different age groups, so that the children can socialise and learn from each other. Contact Rainbow Day Nursery if you would like to know more about a reliable child day care centre.