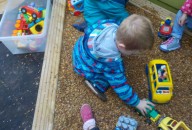 Every loving parent needs to know of dependable nursery places in Madeley Heath. Rainbow Day Nursery is an established, highly-reputable nursery that offers exceptional childcare and education. They cater for children from 6 weeks to 5 years of age. Their staff all have a minimum of a Level 3 NVQ qualification in childcare, and a Senco-trained staff member is available to assist and advise parents with their child's development or any special care they might need. Speech therapists, health professionals, play therapists and other childcare professionals are also available to assist when and where necessary.
In Madeley Heath, nursery places such as Rainbow Day Nursery should provide a safe, reliable and joyful space for your children to stay while you are away. Rainbow Day Nursery invites you and your child to visit them for a "settling-in" period, where you stay and play with your child until he or she becomes comfortable in the nursery space. Their extensive range of activities and facilities will ensure that your child is entertained and amused for the duration of their visit. Their play facilities include indoor and outdoor areas and include a grassy play area and an all-weather safety surface play area. With such an enriching environment for your child on offer, why choose anyone else for the all-important job of taking care of your young one?
Rainbow Day Nursery is an acclaimed nursery place in Madeley Heath, registered with both Ofsted and National Day Nurseries Association. A full-time chef is employed to ensure that your child has a delicious, healthy diet while at the nursery, and physical activities are combined with a healthy eating plan to work towards a holistic healthy lifestyle within the nursery setting. They strive to take the utmost care of your child by providing them with the optimal environment and tools for a healthy and happy development. For more information about well run, safe nursery places, contact Rainbow Day Nursery.