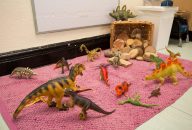 When you're looking for childcare places in Middleport, what's the most important thing to you? Is it the facilities or the education your child receives? Are you looking at the customer care of the staff in order to get a feel of how your precious one will be looked after in your absence? Do you find yourself more inclined to looking at the company that will be around them while they are there, or the kind of food they'll be fed? Are you more concerned about the qualification of the staff or the cleanliness and safety measures of the place? Are all these areas important to you? At Rainbow Day Nursery, we understand that these are all concerns any parent would have when enrolling their child or children into a daycare centre, and we have made sure to put to rest all those concerns.
Established more than three decades ago, Rainbow Day Nursery has and continues to offer nursery care and facilities that are ideal for your child. In Middleport, childcare places provide an environment for children to grow and interact with others of various backgrounds. We offer quality childcare for children who are as young as 6 weeks old up to those who are 5 years. We offer a range of indoor and outdoor play facilities, including an all-weather safety surfaced play area. When it comes to staff qualifications, all our staff is qualified up to at least NVQ Level 3 in childcare. Our full time cook provides healthy home cooked meals so that each child benefits from a nutritious diet. It takes a village to raise a child, and that is why we work closely with other professionals, such as speech therapists. This ensures that even the children with special needs are catered to so that their development is not hindered.
Finding the best childcare places in Middleport needs careful consideration. To find out more about our happy and secure childcare centre, contact Rainbow Day Nursery today. We offer a settling-in period for parents, where you get to stay and play with your child while building up to leaving them for play sessions on their own. We want both you and them to feel comfortable being left alone with us.