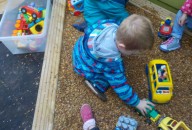 Do you want to send your children to a kids fun club in Newcastle Under Lyme? If you need regular childcare services, you want to make sure that it is a fun place to stay and play. Not only that, the place should be safe and provide some educational resources for a child. Working five days a week, you want to make sure your child is happy at the place they spend their days. To find a good daycare center, you may want to get referrals from friends or relatives who have used these services.
In Newcastle Under Lyme, kids fun club services can be found at Rainbow Day Nursery. They have been open since July of 1986. They have a terrific reputation for the services they offer. It is a short walk from the town centre and Newcastle College, and it is a two-minute drive from the University Hospital. They care for children from 6 weeks old to 5 years old. They offer both indoor and outdoor activities for the children, and they have an all-weather play area as well. Rainbow Day Nursery is open 51 weeks out of the year, from 7:30 am to 6:00 pm. They are only closed for one week at Christmas time and on Bank Holidays. All their staff is qualified in childcare.
To take advantage of a kids fun club in Newcastle Under Lyme, call Rainbow Day Nursery and talk to them about what they have on offer for the children. They are happy to have parents stop by and visit the centre to get an idea of how things work. If you decide to use their services, you can do a settling-in period with your child, where you stay and play until they are comfortable staying without you at the facility. They have a full-time cook on staff, so that the children have healthy meals each day, and this includes breakfast, lunch and an afternoon snack. For more information about a kids fun club, contact Rainbow Day Nursery.