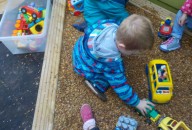 Child nursery in Keele is one of the most important choices that you as a parent will ever make. Your little one needs to socialise with other children. It allows them to develop social skills and they learn how to share and make friends. If a child does not develop these skills early on in life it can lead to problems when they go to school. Our day nursery encourages all the children to make friends and learn the correct social behaviours like manners. They are taught by our qualified teachers to enjoy their varied lessons and look forward to coming to the nursery every day. We have over 30 years of experience in caring and educating young children. Our children are known for their polite behaviour and good manners which are very important when they go to school. We cater for children from 6 weeks of age up until 5 years of age.
Once you are ready to go back to work after your maternity leave in Keele, a child nursery that will look after your little one as you have been doing is most important. The babies are cared for separately from the older children in a baby nursery. Our staff in the baby nursery are fully qualified in attending to the needs of tiny babies. As the children grow they are encouraged to interact with others of their own age group and often form friendships of 5 years or more as they will frequently start school with their friends. This makes it so much easier for them to integrate into school life. The will leave our nursery fully equipped with the skills to start school and with a love for learning.
Child nursery in Keele is a safe and clean place where your child will be given the very best care. Contact Rainbow Day Nursery today and visit us to see our happy and healthy children. Your child will be not only kept safe but also stimulated by the fun day to day activities.