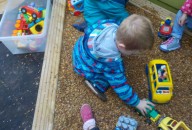 If both parents work, childcare centres in Audley have a busy time creating a home-away-from-home space for the children of working parents. Many children spend more time at their child care centres than at home, and for this reason the right environment has to be created. At Rainbow Day Nursery we know that the first few years of child's life can set the tone for the way the child turns out as an adult. It's why we offer a warm, nurturing and stimulating environment for 'our' children. We know how important consistency is in a child's life and we offer a clean, bright, relaxed, well organised environment free of frenzied chaos. We develop habits and skills such as patience, cleanliness, kindness and a care – skills which the children will use throughout life.
At our attractive Rainbow Day Nursery, we've got lots of indoor play areas as well as outdoor play areas, and these develop motor skills with the different activities of each one. In Audley, childcare centres registered with Ofsted and the National Day Nurseries Association are well worth your consideration, and cater for children from 0 – 5 years of age. Apart from climbing, swinging and running outside, indoors is a wonderful, quieter place where puzzles are built, books are read and wonderful stories keep young minds active. Our rates are very competitive too and we also offer discounts for parents with more than one child attending. Whether you're leaving a tiny infant with us or a robust toddler, we've got special areas that cater for the developmental stages of each age group. You won't find big, strong 5 year olds being allowed to play in the area alloted for tiny tots who aren't even sitting yet.
From all the childcare centres in Audley, we know that you and your child are going to love Rainbow Day Nursery. To find out more about day care centres that are suitable for child, contact Rainbow Day Nursery. What's not to love? It's clean, safe, bright, fun and nurturing and when you leave your precious bundle here, you can go on your way with peace of mind.