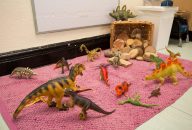 Your little ones will love spending time at our cheerful day nursery in Audley. Rainbow Day Nursery is the leading day care nursery in Stoke. We have been offering top quality services for the last 30 years. We are registered with both OFSTED and the National Day Nurseries Association. We are open 51 weeks of the year, Monday to Friday, from 7:30 am to 6 pm, barring one week over the Christmas holidays. We welcome children between the ages of 0 and 5. Our facility works in close consultation with academic experts in the area of Early Years Foundation Stage. This helps us to stay in sync with the latest information and knowledge on this all-important subject.
For families in Audley, day nursery facilities are chosen according to the family's unique requirements. There is no fixed age when a child can be supported by care outside the home. Working parents have to make this all-important decision even before the birth of their child. This is  to ensure that they select the right one after proper research and personal visits. Some parents may have the help of extended family members for a short while after the baby is born, while others may not. Childcare experts feel that these choices are based on the requirements, budget and preferences of the family. In well-populated urban areas, parents may find a larger range of choices available to them, while this may not be the case in semi-urban or rural areas. You need to make a detailed checklist of what you want and don't want in the day care centre before you begin your search.
While selecting a day nursery in Audley, think of these aspects. For instance, would you prefer a location closer to your home or workplace? Does it meet the OFSTED standards? Are the timings convenient? Does it have good reviews and references? Apart from these questions, you can also consult online forums for nursery or daycare mums, local groups and organisations. For more details about our day nursery, contact Rainbow Day Nursery today. You can trust us to look after your precious little one.