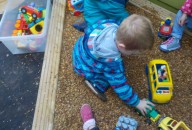 If you are looking for a suitable day nursery in Knutton to look after your infant, then you can do no better than Rainbow Day Nursery. We look after kids of ages ranging from 6 weeks to 5 years of age, and offer lots of indoor and outdoor play equipment including an all-weather safety surface area and a grassed play area. You can be sure that there will never be a dull moment for your little one while you area away. Our main objective is to create a happy space for your child where they can feel cherished and look forward to showing up every day. We are open 51 weeks of the year from 7:30 am to 6:00 pm, closing on bank holidays and taking one week off at Christmas time.
So you need not worry if you happen to be a parent or a guardian living in Knutton. Day nursery services which we provide are strategically designed to create a home away from home for your infant. Our staff are all to at least NVQ level 3 in childcare. Indeed, several of them either have or are working towards acquiring the Foundation degree in childcare. This notwithstanding, we encourage parents to participate in a settling-in period where they can sit and play with their little one and then gradually leave them for short play sessions on their own. This is all free of charge, of course-anything to make you feel happy and confident about leaving your child in our care. Parents who have any concerns about their child's development or any special needs can talk with our Senco trained employee for expert advice and help. Our commitment to the complete development of every child has led us to close collaborations with many related professionals like speech therapists, play therapists, health visitors, and so on.
Our full time cook adds a dash of flavour to our day nursery in Knutton by providing delicious home cooked meals using quality, fresh products. We offer breakfast, a two course lunch, and afternoon tea. In addition to that, the kids have access to fruit and drinks all through the day. Contact Rainbow Day Nursery today to find out more about what we have to offer your child! We look forward to your visit, and would love to take you on a no obligation tour of our nursery.